Basic Functions
Bluetooth wireless.
USB Port: Front
3 (3.5V) RCA Pre-outs.
AUX Input (3.5 mm mini-jack): Front
Smartphone Connection
Spotify App Link.
Amazon Alexa ready.
iPhone & Android automatic pairing via USB.
Direct Control for Certain Android Phones: USB.
iPhone / iPod Music Playback Control: USB.
USB Quick Charge for Android (CDP).
Media Playback
MP3/WMA/AAC/WAV/FLAC playback.
USB FLAC Playback.
KENWOOD Remote app ready.
Tuner
Audio
Built-in Amplifier: 50Wx4.
MOSFET Power IC.
Subwoofer Reference Level Adj..
2-Way Crossover network.
Balance/Fader/Loudness Control.
Bass Boost Circuit.
Digital Sound Processor (DSP) Built-in.
Digital Time Alignment (DTA).
Low- & High-pass Filter.
Speaker Size Control.
Space Enhancer.
Display
13 digits, 1,5 Line Wide LCD Display.
Extra
Rotary Volume Control.
Back-up Memory.
OEM Wired Remote Control ready.
Anti-Dust Design.
Detachable Face Security.
1 year local warranty.
Kenwood KMM-BT306 Features
Music Mix – High Quality Music streaming x 5 devices
Kenwood KMM-BT306 Bluetooth receiver has up to 5 Bluetooth devices can be paired to the head unit at the same time. You can enjoy audio streaming just by switching the devices among your friends.
Dual Phone Connection
While you are connected through Bluetooth, with a touch of a button you can switch between two phones.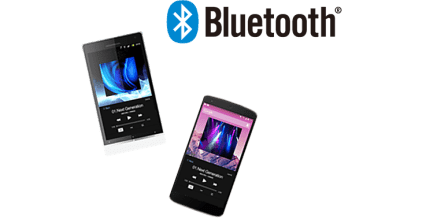 Kenwood Remote App Compatible
Download the free app "Kenwood Remote". You can change Kenwood KMM-BT306 Bluetooth receiver audio sources or adjust audio settings like "Time Alignment" or "13-Band EQ" from your smartphone.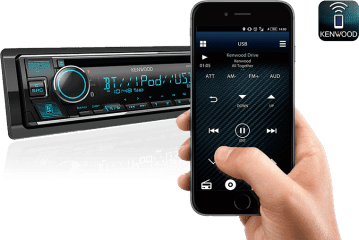 Playable USB Files
Compatible with a broad range of audio file formats such as FLAC and WAV, to MP3, WMA and AAC.
Front USB and AUX Input
Easy front panel connection for your compatible USB- enabled devices. These include Mass Storage Class devices like iPods, smartphones, and USB flash drives. The USB input will allow you to charge and control the music playback of your select devices.
The Best Audio Experience
Sound quality enthusiasts will love the playback support of various types of music formats,
including compatibility with FLAC files. Simple sound customization is also available with its built-in 13-Band EQ and Digital Time Alignment.
Designed for Ease to Use
Direct Bluetooth keys allow you to access quickly to answering to and making a call, and entering Bluetooth Audio source. The Vertical Alignment LCD display secures higher visibility during day-time drive.
What's in the box:
Kenwood KMM-BT306 Bluetooth receiver.

Sleeve (installed).

Wireless remote control.

CR2025 3V lithium battery (installed in remote).

Microphone with integrated bracket.

Quick Start Guide (En/Fr/Sp).

Warranty Card.